Bleed, safe area and trim
The printing process isn't perfect, so to make sure your cards come out looking the best they can there are a few guidelines to follow. What we're talking about are the Safe Area, Bleed, and Trim.
While these sound like complex (and painful) print terms, but they are actually quite simple once you get to know them.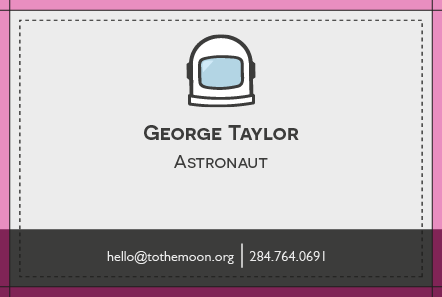 | | | | | |
| --- | --- | --- | --- | --- |
| | | Safe Area | | This is an area within the trim where any text, important parts of photos, logos, and other critical parts of your design should be kept, otherwise, it may get cut off. |
| | | | | |
| | | Trim | | The final size of your cards is referred to as the trim size. This is where we aim to cut your cards. |
| | | | | |
| | | Bleed | | This is the area outside of the trim line that will get cut off, and while it ultimately gets removed it's still important to the overall production of your product. |

Tip:
Looking for design templates with exact sizes?
Click here
to get yours for Illustrator, Photoshop, and more.
Bleed
Whether you're using a photo or a solid color, you'll want to make sure that the background of your design extends through and fills the bleed area. This makes sure that your design reaches all the way to the end of the card when trimmed and will prevent any ugly white edges.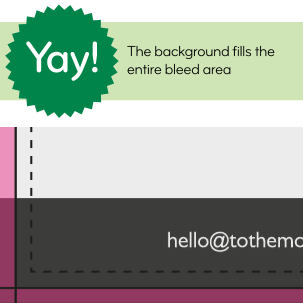 Tip:
Sometimes bleed issues like to hide in the pink area, so make sure to review your PDF Proof closely.
When using photos you'll want to make sure there is plenty of extra space around the focal point of the image, so the unimportant part of the photo can fill the bleed area and the important part is in the safe area. We don't want anyone's head to get cut off.
Safe area
To keep all of the important stuff on your cards, not the cutting room floor, you'll need to make sure all essential text and parts of images are kept within the safe area. The safe area is placed far from the trim line, but if something were to sneak outside of the safe area it wouldn't be protected from the big, bad blades of our cutting machines. We also recommend providing a little extra room for your design to breath inside the safe area, just in case.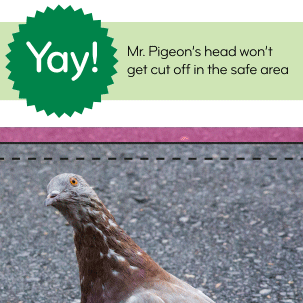 Border recommendations
In general, we suggest avoiding borders, as they can come out lopsided or uneven. Although if you want to use a border, we recommend extending it at least 2mm within the safe area. This is to make sure that any inaccuracy during the cutting process is less noticeable.